Research Opportunities
"I enjoy facilitating my students' research and collaborating with them on the design and progress of their work. Most of my students are passionate about conservation and immunological ecology, and this motivates hard-work, creative problem-solving, and a team atmosphere. I mentor them through training in fieldwork, experiments, data analysis, and presentation and publication of their results."
– Dr. Doug Woodhams
---
Graduate Research
The Woodhams lab is recruiting for graduate school in Biology for a start in Fall 2023. We have a research assistantship for a new project on Disease Resilience and the Microbiome. Master's degree or previous research experience preferred.
Please email Dr. Woodhams to set up an initial informational interview before applying.
Undergraduate Researchers
We are looking for creative, self-motivated, and committed undergraduate research assistants. 
In the Woodhams we value the time and commitment of undergraduate research assistants and believe that all URAs should be paid for their time and contributions to the lab's research goals. Depending on the semester, funding is available through federally funded research grants. If your research interests complement those of the lab, we encourage you to contact Dr. Woodhams with this Application to join the Woodhams Lab. Students are encouraged to apply for support from the Sanofi Genzyme or Oracle Undergraduate Research Fellowship, IMSD – Initiative for Maximizing Student Development, and McNair Scholars Program. Work-study support is also available. Summer research opportunities are available through the Research Experience for Undergraduates program with applications due in January.
Please inquire about an Honors thesis or Independent study credits.
Please inquire about a Post-Baccalaureate program in the Woodhams lab to assist students underrepresented in the sciences for graduate school. Position to be offered upon graduation 2023, 2024.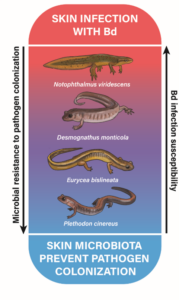 Artist in Residence – Internship: Contact Dr. Woodhams to apply
Image artwork: Nina McDonnell
Initiative for Maximizing Student Development (IMSD) at UMass Boston
IMSD is a year-round, research-intensive, skill-building mentoring program for undergraduates interested in pursuing research careers in the biomedical sciences. Become part of our community of IMSD Scholars. Apply today!
McNair Scholars Program
Apply to the McNair Program The program's goal is to encourage and inspire undergraduate student to pursue graduate studies in the hope that one day they will become researchers, and undertake careers in college teaching.
Research Experiences for Undergraduates in Integrative and Evolutionary Biology
Apply to the UMass Boston Summer REU  in Integrative and Evolutionary Biology
Carry out an independent research project in biology.
Work closely with a faculty advisor and research group.
Develop laboratory skills.
Explore issues related to research such as science ethics and communication
Exchange ideas with students and faculty at weekly seminars.
Microbiomes and disease ecology: Mosquito-borne disease continues to be a major challenge in global public health, with major threats arising from arboviral and Plasmoodium sp. infections. Amphibian disease management is critical for conservation. Research in the lab of Doug Woodhams focuses on manipulating mosquito and amphibian host microbiomes to mitigate diseases and promote positive health outcomes, as well as understanding the natural systems that shape these microbiomes. REU projects in this laboratory explore the interactions between host immunity, symbiotic bacteria, and pathogens with a combination of laboratory experiments and some field work. Students can expect to build skills in experimental design, molecular biology, organismal biology, ecology, and systems-based thinking.
---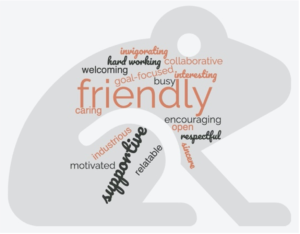 Word cloud describing Woodhams lab culture created from anonymous survey of 7 graduate and 3 undergrad researchers.